Plc-unlock.comprovide to unlock service to automation engineer and Crack PLC Password of panasonic plc series FP-0, FP-1, FP-2 series of specially 8-character's password of the pls series FP0R, FPG, FFP-X.
Crack Password to Panasonic PLC
Panasonic PLC Password Cracker Free Download
Have you ever had problems unlocking your Panasonic PLC? If you're looking for a way to make your PLC work again, you can use a password cracker. The Panasonic PLC can be very frustrating to use, but it's not impossible! By following these steps, you can easily unlock your PLC. After all, it's only a matter of time before you can start enjoying your new system.
Nais FP0,FP1,FP2,Nais FPG, FPX

For Panasonic series PLC software don not sell service to customer site, If need to your unlock support please send us your hardware device to Bnagladeshi Office.
Locking Password set to 4 ch or 8 character's in upper case will be okay.
First of all, you need to crack your Panasonic PLC's password. This is crucial because you cannot just create a copy of the PLC program. The Panasonic PLC doesn't store any programs in memory, so it's impossible to run a copy of a program that you want to use. In order to use a PLC password hacking tool, you will need to have the correct program installed on the Panasonic PLC.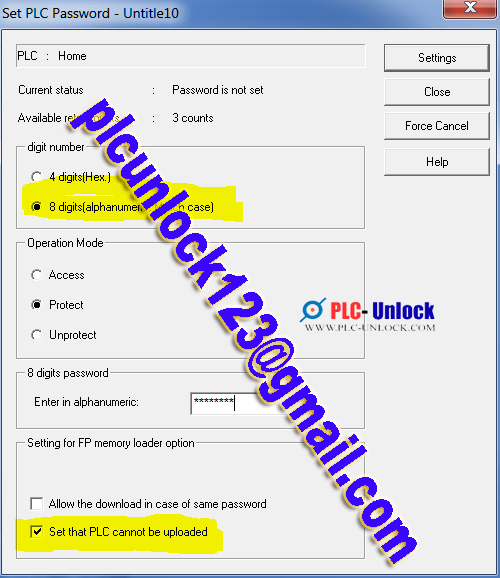 Software stature of Panasonic plc and create an new program.
Un-ZIP Password is "www.plc-unlock.com"
There is plc program set can't be upload
After installing the required software, you need to enter your Panasonic PLC password Crack. Then, follow the instructions. After that, you'll be able to open your PLC and make changes. Then, follow the steps to crack the password. If you're successful, you can even install the new PLC on your computer! There are plenty of free methods for doing this. You can even buy a used PLC online! You'll be glad you did!
There is disable to write/read…….